Step behind the scenes of our Heritage video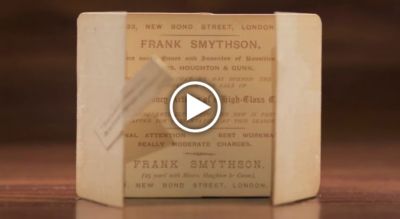 It's Smythson's 125th anniversary, and the new heritage video takes pride of place in our series of celebratory films launched in September. Delving deep into the heart of the brand's long and storied legacy, this piece called for something more eccentric, more eclectic, something altogether more intimate.
Rendered in director Virgilio Villoresi's distinctive and evocative style, the film brings pieces from our archive collection to animated life using a series of techniques that trace the evolution of motion picture; from the quaint effect of the 'zoetrope' in the 1800s all the way up to a modern-day 3D sequence. It travels through twelve decades of Smythson's story, bringing an enchanting lightness of touch to the journey.
Villoresi was born in Fiesole, in the province of Florence, on November 10th 1979. After falling in love with cinema at the age of 10, a life ambition was born.
'I would scavenge for video tapes in various libraries and take them home to watch alone' recalls the 30 year old. 'My studies were actually of no use whatsoever. My real school consisted simply of watching, avidly, through the eyes of someone eager to learn.'
From an early age he became interested in experimental cinema and soon began to make a series of animated collages following the example of the Polish animators of the 1950s.
'My work recreates a reality that doesn't exist…a reality whose surface is covered in soap, where inanimate objects come to life and keep slipping, always sliding…
You don't need to explain anything to a child. In fact, I would explain to an adult to watch my films through the eyes of a child.'
When asked what century he would want to live in, he replied 'All of them, except this one'.
'My creative philosophy comes from the concept of abandonment. I communicate my memory … memory filtered through imagination, to preserve a sense of childlike innocence. My approach to the art of cinema is all about relaying a state of suspension – between childhood and adolescence, waking and dreaming. I want to give the viewer a sense of being asleep, like an afternoon nap, so to speak.
I'm fascinated by states of consciousness like catalepsy or somnambulism, where it's possible to inhabit the space between dream and reality. I try to recreate the movement of that dimension in my films.'
'I have a similar sensation myself as I work; I believe that everything happens in my absence.
I'll explain better: As I'm working I have a feeling of being possessed by some presence …so, ironically, there's a distinct awareness of my absence throughout the creative process. It's like being led by someone I don't know.'
Why were you so excited to get involved with Smythson?
'I think Smythson products have the same mood of my poetic imagination. The importance of hand-made things is also a value that we share, and craftsmanship is obviously such an important theme for this video. I loved working with the archive collection – my favourite piece was definitely the miniature doll's house.'
And there is something about his style that transports you, indulging an irresistibly child-like immersion in a world of miniatures.
Where did you get the idea for the heritage video?
'I was inspired by the history of optical effects and wanted to create a parallel with the history of the brand. Taking a journey through the evolution of 'pre-cinema' seemed to be such a perfect fit for the particular beauty and heritage of this iconic brand. It's like a symphony where the notes are the colours and silences the distance between the objects.
The first practical step was to get my head around the task of representing the brand's history from the end of 1800s up to the present day. So I spent quite a lot of time at flea markets rummaging through dusty old magazines from each decade in question. Between that and the valuable styling input from Vivì Bridges, the aesthetic of the video was born.
Next, my team and I transformed each Smythson product into a pre-cinematic instrument, and everything came together to create a sort of animated ballet.'
What, or who is your biggest inspiration?
'Honestly, everything I really love. You find inspiration everywhere…all you have to do is look at the world with sincerity and honesty.'
Finally, what does Smythson mean to you?
'To me, Smythson means elegance and inspiration.'